Bienvenue dans la villa 2
Welcome in the second house !
*** Nouveautés (Juin 2013) *** New (June 2013)
Maison avec grande terrasse et bungalow / House with big terrace and bungalow
F4, 140 m2, meublé, grande terrasse carrelée avec bungalow couvert, cuisine équipée
F4, 140 m2, entirely furnished, big terrace with covered bungalow, fully-equipped kitchen
Extérieur / Outside
Tres grande terrasse carrelée (250 m2) avec bungalow couvert (35m2) / Very big terrace (250 m2) with covered bungalow (35m2)
Intérieur : 140 m2 / Inside : 140 m2
De type occidental, avec eau et électricité. Maison construite en 2013.
/ Western type, with water and electricity. House build and furnished in 2013.
Sécurité / Safety
Mur d'enceinte. / Safety wall aruond the house
Si vous souhaitez un gardien, nous pouvons vous conseiller un gardien fiable. / If you wish a guard, we can recommend you a reliable person.
*** Cliquez ici pour plus de photos de la villa 2 ***
*** Click here to see more photos from villa 2 ***
*** Cliquez ici pour plus de photos de la villa 2 ***
*** Click here to see more photos from villa 2 ***
1 salon meublé / 1 furnished living room (39m2)
1 canapé 3 places, 1 canapé 2 places, 2 canapés 1 place
3 tables basses, 1 meuble, 1 table 6 personnes
1 three-seater sofa, 1 two-seater sofa, 2 one-seater sofas
3 coffee tables, piece of furniture, table 6 people
3 chambres / 3 bedrooms (14m2, 14m2, 16m2)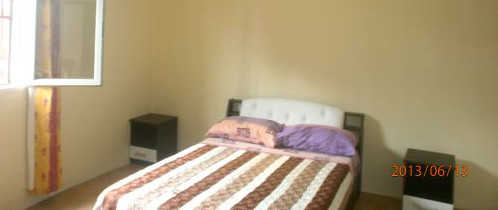 Par chambre : 1 Lit 2 personnes, 2 tables de chevet, 1 armoire, 1 dressing
In each room: 1 double-bed, 2 bedside tables, 1 wardrobe, 1 dressing
1 cuisine équipée / 1 equipped kitchen (15m2)
1 cuisinière : 4 gaz (bouteille) + 2 électriques
1 meuble de rangement avec plan de travail
1 réfrigérateur, 1 micro-onde, 2 cuiseurs
+ 1 machine à laver le linge
1 cooker: 4 gases (bottle) + 2 electrics
1 storage unit with work table
1 fridge, 1 microwave, 2 auto-cooking
+ 1 washing machine
*** Cliquez ici pour plus de photos de la villa 2 ***
*** Click here to see more photos from villa 2 ***
1 salle de bain / 1 bathroom (7,5m2)
(7.5m2) : 1 baignoire / 1 bathtub
WC séparé / WC in a separate room